Yertle the Turtle and Other Stories
When I was young, I had several Dr. Seuss books at home, (which I'll get to reviewing later), but it wasn't until I was already a parent myself that I finally read Yertle the Turtle and Other Stories.  It's one of his theme collections, containing three stories all loosely based around the concept of ego:  Yertle the Turtle, Gertrude McFuzz, and The Big Brag.  Since then, it has become our family's favorite because, in my daughters words:  "It's a good book.  It has one of my favorites, and your favorite, and Daddy's favorite."

King Yertle the Turtle, the subject of my husband's favorite story, has an intense appetite for more: more land, more height, more power!  His desire is so unyielding, that he enlists all of his turtle subjects to "help" him achieve his personal lofty goals of grandeur and omnipotence, all at the expense of those very same turtle subjects.  Yertle loses his throne and gets his in the end, and the story concludes with one of the most poignant and powerful lines ever written in a children's book:
And the turtles, of course… all the turtles are free

As turtles and, maybe, all creatures should be.
It is such an incredibly timely and appropriate message, that I feel like the West Wing could use a little Dr. Seuss schooling, and should be reading this aloud every morning at story time.
Gertrude McFuzz, the ego driven character in the second story, a "girl-bird" after my own heart, wants nothing more than to have the same beautiful tail feathers as Miss Lolla-Lee-Lou.  She learns of a risky, but effective way to grow new feathers, and suddenly, she wants more and more and more tale feathers.  Dr. Seuss give us such a gift here, with the most delicious prose: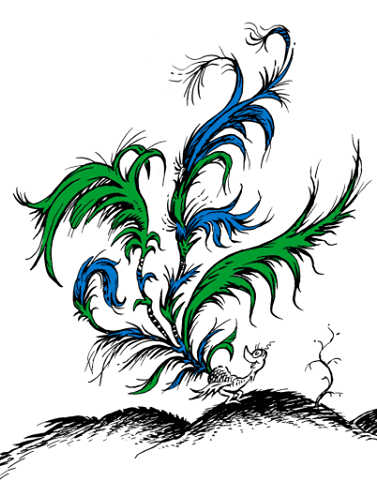 Then the feathers popped out!  With a zang! With a zing!

They blossomed like flowers that bloom in the spring.

All fit for a queen!  What a sight to behold!

They sparkled like diamonds and gumdrops and gold!

Like silk! Like spaghetti! Like satin! Like lace!

They burst out like rockets all over the place!
All those feathers nearly do her in though, and in in the end, she realizes that it's better to be yourself, exactly as you're meant to be, than try to be someone or something you're not.
It's no surprise that my 4-year-old daughter's favorite story is "The Big Brag", in  which a Rabbit and a Bear compete for the title of best of the best, in the categories of hearing, (rabbit), and smelling, (bear).  They take their bragging to the very extreme, sounding like 4-year-olds themselves, each claiming, "I'm better than you!" The voice of reason and the kick in the pants comes from an old worm, who bests them all, saying he his sight is better then their hearing or smell, as he can see all the way around the world to the back of all of their heads.
"…the fools that I saw were non other than you,

Who seem to have nothing else better to do

Than sit here and argue who's better than who!"
Gotta love the adult sense of humor here, as we know worms are, more or less, blind!
So run out and get this book!  Or have a baby and let us know, because it is always the one book we make sure to include in all of our baby shower gifts.  😉